Maisonette Loft in historical old Forge building in a quite courtyard environment
Comfortable 115 sqm loft with 2 bedrooms, 2 bathrooms in a courtyard without traffic noise.
The name of the apartment is derived from the historical function of the 100 year old building as a service work-shop for the near Ulanen barracks who had 1200 horses. The 2008 renovated apartment with 115 square meters of living space is spacious.
The apartment is suitable for a group of 4 (max. 6 quests). It has 2 bedrooms. All bedrooms have queen size beds and there are also two roll on beds. The whole apartment offers a comfortable basis for your activities right in the the city centre of Berlin, close to the new main train station.
The 2 bedrooms are on the first floor. An indoor wooden stair will give you access to this floor. There are two bathrooms, one with bath tub and one with shower, close to the bedrooms.
The main living room with live-in high quality fully equipped kitchen has a wooden table.
You can park one car on a parking space belonging to the house.
Parties or celebrations are not allowed.
The apartment is located in the North of Tiergarten in the lively but not too crowded neighborhood called "Stephankiez".
The next underground station (Birkenstrasse) and the next S-Bahn station (Westhafen) are about 700 meters away. Bus stops of the line 123 are about 300 meters from the apartment, which takes you in a few minutes to the main train station (Hauptbahnhof). From there the political city centre with Reichstag building and Brandenburg Gate are easy to reach.
The Berlin administration requires a registration for overnight guests.
We will request the relevant personal data in advance using a booking form.
+ More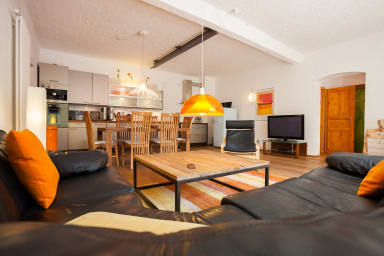 Antique
Art Deco
Atypical
Baby bath
Baby crib
Babysitter recommendation
Balcony
Baroque
Books
Books Kids
Central Heating
Cleaning and disinfection
Clothes Dryer
Coffee Maker
Computer Available
Contactless check-in and check-out
Contemporary
Dishwasher
Ecological
Elevator
Empire
Energy-efficient devices
Essentials
Fire Extinguisher
First Aid Kit
Fridge
Full Equipped Kitchen
Kids' Games
Gated property
Gloves available
Hair Dryer
Hand sanitizer
Hangers
Heating
Highchair
Historical
Hi-tech
Hoover
Internet
Iron
Kettle
Kids Friendly
Laptop Friendly Workspace
Linen Towels
Long Term Rentals Available
Masks available
Microwave
Minimalist
No single-use plastic
No single-use toiletries
Organic food & beverages
Oven
Parking Included
Private Car Park
Private entrance
Professionally cleaned
Romantic
Safe
Safety Card
Satellite Or Cable
Smoke Detector
Smoking Forbidden
Social distancing
Staff wear protective equipment
Suitable for children (2+ years old)
Suitable for infants (under 2 years)
Terrace
Toaster
Toys
Tv
Ventilator
Victorian
Vineyard
Washing Machine
Wood
Work Desk
Reviews
Andrew W.

Andrew W.

Great apartment for two couples exploring Berlin

This AirBNB worked out great two couples to spend a long weekend exploring Berlin. The location is a little distance away from the touristy areas of Berlin which required a short Freenow/Uber ride, but was nice and quiet at night.

---

Steffi G.

Steffi G.

Perfect!

It was the perfect home away from home place to stay at. It had everything we needed and more. Our young boy were safe to play inside the apartment as well as outside in the most beautiful courtyard which provided such a peaceful environment within the hustle of Berlin. Lots of great playgrounds in walking distance. Restaurants, fast food and supermarkets near by and public transport (that could get you with easy connections quickly further into the city) almost at the doorstep. We'll definitely love to stay there again when coming back Berlin.

---

Siggi S.

United Kingdom

Siggi S.

United Kingdom

Wow!

Having stayed in many serviced apartments and vacation rentals I can honestly say that this was one of my favourites! The apartment was extremely spacious, well kitted out, quiet, super clean, and the outside areas very well kept and welcoming. The team looking after us was prompt, friendly and the owner very welcoming and great to talk to. We'll be back!

---

Rachida M.

Rachida M.

On a adoré notre séjour

On a eu un super accueil de Braksi , le logement était comme décrit Tout est propre Très fonctionnel On y retournera sans problème

---

Leah H.

Leah H.

Great place to stay in Berlin

Everything was as expected. The staff was very friendly and helpful. They took the time to show us around the apartment and explain the basics of the city - public transportation, restaurants, nearby sights to see. The apartment was well furnished. We enjoyed our stay.

---

Kerstin B.

Germany

Kerstin B.

Germany

Great oasis in bustling Berlin

Excellent location within short distances to major Berlin highlights. Perfect facilities and great furniture. Welcoming and most friendly host. Heavenly oasis right in the middle of town.

---

Keith W.

Australia

Keith W.

Australia

Forge Workshop Apartment

Our family (four people) stayed at the Forge Workshop Apartment during April 2023 and really enjoyed the experience. The apartment is quite large, well set up and equipped. Communication with the Berlin Lofts team was clear and concise and the check in procedure uncomplicated and on arrival the apartment was clean and set up for us. The workshop vibe of the apartment and the complex in which it is situated is really cool and the quality of the renovation appears to be quite high. We enjoyed staying staying in the apartment as it gave us a large and comfortable place to relax after busy days wandering around Berlin.

---

Elena V.

Elena V.

Great Apartment!

Wonderfully silent

---

Carol W.

Carol W.

Fantastic apartment

Fabulous apartment only 10 mins walk from underground. Apartment was spacious and had everything we needed for our stay. Very clean and fully fitted and kitted out. Set in small courtyard which was lovely and quiet. Would definitely be back.

---

Michael F.

Michael F.

A lovely Place

We spent 4 nights with our granddaughter. The place is beautiful and very well equipped. It is nicely decorated and clean. The hosts were responsive to any requests we made. We have nothing negative to say. We have stayed in many B & B's(not all Airbnb) over the years, and this is the nicest one we have stayed in. Thank you Stephan and Claudia for making our first stay in Berlin so comfortable and enjoyable!

---

Tom B.

Tom B.

Berlin Gem

The apartment was a real gem, wonderfully appointed in a secluded quiet location that was easy to get to and from. Great welcome from Stephan as well. I hope to return

---

Andreas R.

Andreas R.

Great Apartment in Berlin

Best value in Berlin!

---

Viktoriia R.

Viktoriia R.

Lovely apartment

Very nice apartment. Very nice place. I am recommend this apartment

---

David S.

David S.

A lovely place to stay

We had a lovely stay. I would recommend. The beds were comfy, and the place was clean and tidy. The only small issue, and this was my fault for not checking, is that the nearest U-Bahn in a 13min walk away. I would definitely stay here again.

---

Shari R.

Shari R.

Berlin perfection

Everything was great. Clean, spacious, comfy!

---

MeghanKali M.

MeghanKali M.

Thank you for our stay!

Check in was so easy, Sofie was great and gave us the run down so we knew where everything was. The place was beautiful and very comfortable for two couples. We could walk to downtown or train. We enjoyed the neighborhood grocery stores and good Turkish restaurants. Would definitely stay again!

---

Birgitte E.

Birgitte E.

Great safe habit while exploring and enjoying Berlin

We were a family of five that enjoyed a warm welcome, to the spacious, clean, well equipped and designed apartment. Having a historical scenery, nice green and quiet backyard to relax at the start and end of a day made our days in Berlin extra enjoyable.

---

Chris B.

Chris B.

Stay at Forge Workshop apartment/Berlin

We had a wonderful stay at the Forge Workshop apartment in Berlin. This place had absolutely everything you might need and had plenty of space for our family of five. A very beautiful and peaceful setting in the courtyard outside, too.

---

Pat B.

Pat B.

Beautiful place

Clean, large, well-equipped. A great place to stay with excellent communications and service. A little further from the centre than indicated.

---

Mario P.

Germany

Mario P.

Germany

Nice location

We had a pleasant vacation at Forge Workhop Apartment. Good equipment of the apartment with great furnishings. Parking in the courtyard was very important for us. Thank you! To note for guests: the walk to the subway takes 10-15 minutes.

---

Ralph C.

Ralph C.

Vielen Dank für einen sehr schönen Urlaub

Vielen Dank an Herrn laBarré und sein super Team

---

Marcus B.

Germany

Marcus B.

Germany

Tolles Appartement

Ruhige Lage, großräumig und sehr sauber. Wir kommen immer wieder gerne!

---

Carina S.

Carina S.

Carina from Sweden

Nice and big and very clean apartment:) Very qwickly and fast response when we had a lotta of questions!

---

Fabian S.

Fabian S.

A wonderful Time in Berlin Lofts

We had a good stay without any lack of anything we needed. It was clean, pretty, high standards in electronics and good comfort for a full family. Thanks for a great time BerlinLofts Best regards Fabian Senninger

---

Dorothea G.

Germany

Dorothea G.

Germany

Aufenthalt über Weihnachten

Die Wohnung ist geräumig und gemütlich eingerichtet. Die gut durchdachte und reichliche Ausstattung der Küche ist sogar für das Kochen mit mehreren Personen geeignet. Die Matratzen sind gut. Schön war es, dass man jederzeit Kontakt zum Vermieter aufnehmen konnte und Wünsche, z.B. nach zusätzlichen Handtüchern, umgehend erfüllt wurden. Durch die Lage im Hinterhof, sogar mit Sitzgelegenheiten für draußen für jede Wohnung, ist die Wohnung ruhig, fast wie eine eigene kleine Welt. Es gibt Spielzeug und interessante Literatur über Berlin und Moabit. Alles in allem sehr zu empfehlen. Hier kann man sich wohl fühlen. Vermieter und weiteres Personal sind sehr nett.

---

Valerie K.

Valerie K.

Fantasic flat in Berlin

The apartment is tucked away from the main street in a beautiful courtyard with fantastic brick buildings. The apartment itself is spacious, clean, and well equipped. The heating worked very well, and the flat was cosy even if outside it was a dark Berlin winter day. The location is really good in the middle of Moabit and the whole check-in process was very well organised. We will definitely come back!

---

Karin A.

Germany

Karin A.

Germany

wonderful

Wonderful.......uncomplicated......friendly.....comfortable.......every time again......

---

Jordanne O.

Jordanne O.

Berlin Lofts

Thanks again Steven for the stay. We had an incredible time and would definitely

---

Pia D.

Germany

Pia D.

Germany

Pia Ditewig

We visited the 220M Loft in 2011 and were excited about the space. The kitchen was beautiful and very good equiped. Now in 2021 we were with less people, so rented the Forke Workshop. It also is beatiful, has everything you need and a safe parkingplace inside the yard. The location is very practical at the edge of Berlin. We try to come next year again with more people.

---

Ben S.

Ben S.

Customer

Great spot, great staff well looked after

---

Martin A.

Martin A.

Great or awesome?

Both!! A perfect place to stay in Berlin.

---

Sabrina S.

Sabrina S.

Toller Aufenthalt

Tolle Lage, super Wohnung, kommen gerne wieder.

---

Cat H.

Cat H.

Es war super toll

Wir waren eine Gruppe von 6 Erwachsenen und es war einfach fantastisch. Tolle Betten, 2 super Bäder, die Wohnküche, Terrasse einfach alles - himmlisch. Ich wäre gerne geblieben. Wir kommen mit Sicherheit wieder

---

Irmgard H.

Germany

Irmgard H.

Germany

immer wieder gerne

auch unser 2. Aufenthalt in einem der Appartments von berlinlofts (diesmal die Schmiede Werkstatt) ist rundherum angenehm; das Appartment bietet alles, was man für einen entspannten Aufenthalt braucht; die Betten sind herrlich bequem, 2 großzügige Bäder, eine perfekte Küchenausstattung bei der wirklich gar nichts fehlt, und das Besondere an diesen Appartements: sie liegen mitten in Berlin und sind dennoch absolut ruhig durch die urige Hinterhoflage, wo man auch einen schönen Sitzplatz im Freien hat zum Essen und Klönen. Auch ein gesichterter Parkplatz und Abstellmöglichkeit für Fahrräder sind vorhanden - Fazit: es fehlt absolut an nichts, wir kommen sehr gerne wieder!

---

Henri G.

Germany

Henri G.

Germany

Forge Workshop

large apartment on two floors; excellent working spaces and with two bathrooms and an extra toilet highly practical super sunny yard that provides lofty extension in good weather conditions have booked repeatedly - this is our favorite

---

Alexander R.

Germany

Alexander R.

Germany

Schönes und großzügiges Appartement, nicht weit zum Regierungsviertel

haben vier schöne Tage zu viert in Berlin verbracht. Appartement liegt in ruhigem, geschlossenen Innenhof. Parkplatz für unser Auto, Terrasse sowie Abstellplatz für unsere Fahrräder im Innenhof waren "Gold" wert.

---

Frank W.

Frank W.

Frank Wilbert

:-)) Alles da was man braucht in einem perfekten Zustand.

---

Kerstin B.

Germany

Kerstin B.

Germany

Wie immer super

Vielen Dank für den tollen Aufenthalt! Es hat uns, wie letztes Mal auch, sehr gut gefallen und wir kommen sehr gerne wieder. Top Küche, top Bad, und soooooo schön ruhig mitten in Berlin!!! Danke und bis zum nächsten Mal! LG

---

Robert G.

United States

Robert G.

United States

Great Berlin apartment with excellent amenities

This two bedroom, two-bath apartment (neither ensuite) is roomy, well-stocked (even coffee) and has nice amenities, such as the espresso maker along with various other coffee making machine (important for ambitious travelers). Beds are comfortable, and bathrooms are large with nice showers. The living area is comfortable for four people to unwind while checking email and catching up on the news back home.The washing machine works great. And the kitchen cabinets are well stocked. Located northwest of the downtown area, there are plenty of restaurants and bakeries nearby, but you'll need to take a cab, bus or bike to get downtown. Our host was very accommodating and responsive, even letting us store our baggage as we arrived well ahead of check-in time. I highly recommend this place for your Berlin visit.

---

Nancy M.

Nancy M.

Ich bin ein Berlin-Lofter

Just say YASSS! To the Berlin Lofts. Price and Value are great. Check in was seamless and we were given all information for nearby transit, restaurants, shops, and of course an introduction to all the amenities available to us within our mini home-away-from-home. We were extremely happy with our 5 days at the Loft. It was everything as advertised and then some. Many thanks....we would return here and recommend without hesitation.

---

Claudia G.

Claudia G.

IFA Berlin 2019

Wie immer ausgezeichnet. Gleich wieder für die IFA Berlin 2020 geordert. matw Buchhaltung Claudia Greif

---

Karen M.

Karen M.

Spacious brilliantly appointed apartment in Berlin

We loved staying here. A lovely, spacious apartment with absolutely EVERYTHING you need to self-cater is here and if you are a coffee aficionado I think you'll be happy. Our host greeted us on arrival, explained everything clearly, was helpful whe I couldn't work out how to use the stove top and let us leave our bags on departure until we were ready to go. The UBahn was a little way to walk but the bus 123 takes you to the main Hauptbahnhof. We had a very happy week as a family together here. Many thanks.

---

Linda S.

Linda S.

Nice complex

Quirky apartments and ideal for large groups who want to rent several apartments Well equipped and clean. Felt safe

---

Steven H.

Steven H.

Wonderful vacation flat in Berlin

Spent 6 days in Berlin with wife and two sons. Well appointed apartment with everything we needed for a comfortable stay. Close to everything we needed and would definitely recommend.

---

Lars T.

Lars T.

Toller Loft

Wir waren zum dritten Mal vor Ort. Toller Gastgeber, nur zu empfehlen !!!

---

Ivar H.

Ivar H.

Berlin excellence

This was our 3rd visit to Berlinlofts (Stephanstraße/Perleberger Straße) - and still not the last! We really could not wish anything else ...

---
Show more ↓