Luxurious furnished maisonette apartment in historical building near Berlin downtown landmark Checkpoint Charlie.
Berlin center with most attractions within walking distance. 5 minutes to Checkpoint Charlie (the most famous Checkpoint Charly operated by the US Army at the inner Berlin wall and symbol of the Cold War); The Jewish Museum by architect Daniel Liebeskind in the neighborhood; 15 minutes to the exhibition hall Martin Gropius Bau; 20 minutes to the Potsdamer Platz to former an new center of the capital Berlin; 15 minutes to the so called Gendarmenmarkt 30 minutes to the center Berlin landmark the Brandenburg Gate, symbol of the divided city as well as the reunification and the Reichstag building reconstructed of Norman Foster the German parliament building; 30 minutes to Museum Island (UNESCO World Heritage) with: Altes Museum, Neues Museum, Old National Gallery, Bode Museum and Pergamon Museum. 3 minutes to Hallesches Tor starting tour of Berlin's most popular boat tours, like the bridge tour.
Parties or celebration are not allowed.
Is the new center of the Berlin art galleries at this point. Here is the line between alternative and multicultural district of Kreuzberg and the noble district Mitte. 'The culinary excellence town "- Tim Raue Restaurant (3 min), Lafayette (15 min), organic canteen of the Waldorf School Kreuzberg (7 min.), LPG - Europe's largest organic supermarket (10 min.).
a summary of daily 1,500 events (64 film festivals every year): Bread and Butter, Berlin Marathon, Carnival of Cultures, Gallery Weekend Berlin, DMY - International Design Festival, Velothon Marathon, Berlin Festival, Berlin Food Week, Berlin Art Week Berlin Web Week, Social Media Week, Festival of Lights, Berlin Jazz Festival, European Month of Photography, BerMuDa Berlin Music Days, Berlin Fairy Tale Days Christmas Gendarmenmarkt, New Year's Eve party at the Brandenburg Gate, Berlin Berlin International Film Festival, Long Night of Opera and Theatre, Long Science Night, Long Night of the Museums, Fête de la Musique, Berlin Clown Festival, Bergmannstraßenfest, Classic Open Air, Young Euro Classics, Popkomm, Berlin Music Week Festival of the Staatsoper, Berlin Christmas markets, etc.
The Berlin administration requires a registration for overnight guests.
We will request the relevant personal data in advance using a booking form.
+ More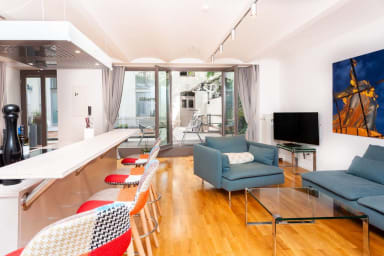 grounf floor living room with terrace
24 Hour Check-in
Antique
Art Deco
Atypical
Baby bath
Baby crib
Babysitter recommendation
Balcony
Baroque
Books
Books Kids
Central Heating
Cleaning and disinfection
Clothes Dryer
Coffee Maker
Contactless check-in and check-out
Contemporary
Dishwasher
Ecological
Elevator
Empire
Energy-efficient devices
Essentials
Fire Extinguisher
First Aid Kit
Fridge
Full Equipped Kitchen
Kids' Games
Gated property
Gloves available
Hair Dryer
Hand sanitizer
Hangers
Heating
Highchair
Historical
Hi-tech
Hot water
Internet
Iron
Kettle
Kids Friendly
Laptop Friendly Workspace
Linen Towels
Long Term Rentals Available
Masks available
Microwave
Minimalist
No single-use plastic
No single-use toiletries
Organic food & beverages
Oven
Parking Included
Private entrance
Professionally cleaned
Romantic
Safety Card
Self Check-in
Smoke Detector
Smoking Forbidden
Social distancing
Staff wear protective equipment
Suitable for children (2+ years old)
Suitable for infants (under 2 years)
Terrace
Toaster
Toys
Tv
Ventilator
Victorian
Vineyard
Washing Machine
Wood
Reviews
James B.

United Kingdom

James B.

United Kingdom

Casa Doro - Fantastic 1 Bed Apartment

I've used Berlinlofts for many trips to Berlin and they never disappoint. Great apartments and with really nice touches inside.

---

Anna K.

Anna K.

Mooi gelegen appartement met terras

Luxe appartement en perfecte ligging. Fijn met binnenplaats je waardoor je lekker rustig buiten kunt zitten en bij kunt komen van de drukte van de stad.

---

Tom G.

Tom G.

Highly Recommended!

We thoroughly enjoyed our time at Casa Doro! It was an ideal base for first time visiting/exploring Berlin. The flat was ideal- and Babbet's communication and support equally wonderful.

---

James H.

United States

James H.

United States

Beautiful apartment in a great location

You could not find a better location for your stay in Berlin. The apartment was beautiful. It was within easy walking distance of many of the sites you will want to visit. Everyone was very communicative with us during the process, they made it very easy. We highly recommend this property and the people we worked with. The neighborhood is great, very walkable with lots of good places to eat. Book this place if its available.

---

Paul R.

Paul R.

Exactly as the photos

Lovely accommodation with plenty of space and very quiet. I wouldn't hesitate to stay here again when in Berlin.

---

Werner V.

Werner V.

eine Oase zum Wohlfühlen

sehr empfehlenswert, sehr ruhig, komfortabel, eine Oase zum Wohlfühlen, sehr großzügig eingerichtet

---

Marlene M.

Marlene M.

Awesome Apartment

Such a perfect experience. Staying with Berlin Lofts added extra comfort to a quick city break. It is perfectly located with a Ubahn stop close by and checkpoint Charlie just a short distance away. We were easily able to stroll up to the Brandenburg Gate too! The only trouble was the apartment was so nice to hang out in we were always slow to leave early and see more of the city! Highly recommend!

---

Roderick H.

Roderick H.

Great Choice in Berlin

The Casa Doro apartment was a wonderful choice for my wife and me. It is clean, well equipped, and quiet, Public transport is just a block away, and several restaurants are within an easy walk. I recommend it heartily.

---

Raul S.

Raul S.

Great apartment and location

It was a large comfortable and clean apartment in a location that was handy to subway as well as to walk to many sites.

---

Amy F.

Amy F.

Great stay in Berlin

This was the perfect place for our first trip to Berlin. Close to public transport and main attractions. The bed was comfortable and the apartment was well appointed. The cappuccino machine was a nice touch for weary travelers! Definitely recommend

---

Rutger S.

Netherlands

Rutger S.

Netherlands

Luxurious, attention to detail, and wonderfully equipped

The apartment is situated very central. Parking is free in the street (if you can find a spot). The metro is close. Three supermarkets in the vicinity. That is just the start. When you enter the completely renovated old building into the courtyard you are welcomed with tranquillity and history. The apartment is situated at the back, meaning you have no noise from the street or the shops. Entering the apartment you step into luxury and attention to detail. The sofa is great. The rooms are very spacious. The lighting is good. The kitchen is fantastic. We did a lot of cooking, requiring different tools and utensils. All were present. Boiling your tea-water to the correct temperature is just a nice attention to detail. The chromebook present there to search the internet is another. But it goes further. There was a HDMI-cable if you wanted to use your own laptop to watch TV. There was a book explaining the history of the building. There were herbs and spices in abundance. The hosts really go out of their way to make your stay feel like a real luxurious vacation. I recommend this apartment strongly to any potential travellers who are looking for that bit extra on their trip.

---

Keith F.

Keith F.

Absolute Perfection

This has to be the absolute best Rental in Berlin. Located in a quiet neighborhood filled with excellent international dining options. Although the kitchen is filled with every possible tool and utensil and steps away from two grocery stores, you can whip up a proper meal at home too. Major public transport is a block away for quick trips to all the sights. The level of customer service was incredible! Let me just say that landing without any luggage not even a coat, the host offered to lend us some until our bags arrived. This place is better than home, situated in a convenient area, historic building turned modern loft, is where I will be studying when I return. I'm fact I'm already planning my next trip to Berlin around the availability of this place! Stop looking, book this one, the host has thought of everything and is willing to give you the coat off their back—quite literally. Many thanks for a cozy retreat after walking around at least a dozen Christmas Markets. Oh and the best one is only a few blocks away.

---

Peter K.

Peter K.

So muss Airbnb sein

Alles bestens gerne wieder

---

Michael T.

Michael T.

Amazing appartmebt

This apartment was amazingly equipped, clean and well positioned for all attractions

---

LOU S.

France

LOU S.

France

Excellent is the word !

I recommend this very pleasant place perfectly located in dear Berlin.

---

Elena S.

Elena S.

Charming loft

The charming apartment in the nice district. It is very quiet with a small patio. Close to U-bahn and to a couple of grocery stores. In a walking reach to some historical touristy attractions. Also, there is a small park nearby. BerlinLofts team was very helpful and us quite quick to respond.

---

Eoin O.

United States

Eoin O.

United States

Wonderful experience!

Had a fantastic experience here. They were extremely accommodating and kind. The place has everything you need and is extremely clean. Comfy couch and bed. We have already booked it again for the next time we are in Berlin!

---

Miki D.

Miki D.

Miki Davis

It is a beautiful space in a great location. I can't fault it at all. Would definitely stay there again!

---

Karl E.

Germany

Karl E.

Germany

Casa d'Oro, Friedrichstr. 17, Berlin

Großartige Wohnung, zentral, aber sehr ruhig, weil im Hinterhof, großzügig, sehr sauber und sehr gut ausgestattet. Kompliment!!! Das nächste Mal wieder dort!! Und für uns wichtig: keine Teppichböden, wie in so vielen Hotels und Wohnungen. Das geht gar nicht mehr.

---

Barry R.

Barry R.

Great Place to Stay easy walk to all the main city sites

The apartment is just as it looks on the add, smart and clean and comfortable. 200 metres to Check Point Charlie and easy walk of the rest of the city. Very quiet location and very comfortable. When we go back we will look at staying here again.

---

Peter R.

Peter R.

Outstanding apartment

I had three days at Babette's apartment. It is a wonderful space with great facilities in a superb location.

---

Andrea M.

Andrea M.

Fantastic Apartment

A fantastic apartment great location and very spacious. We would highly recommend.

---

Casey M.

Casey M.

Amazing place!

This place is amazing, such a great location and the loft is perfect. Super spacious, trendy, clean and all the amenities you could need. Can't wait to stay again!

---

David H.

David H.

Fantastic apartment

This apartment has everything you need in Berlin. The apartment is perfectly located just near checkpoint Charlie and transport across the town. The apartment is beautifully presented, extremely comfortable and a real credit to the owners. They have really thought about creating a welcoming space. We have travelled extensively throughout Europe and highly recommend it to anyone interested in having a fantastic time in Berlin.

---

Sian H.

Sian H.

Every amenity and great location

Beautiful apartment

---

Ursa M.

Ursa M.

Städtetripp Berlin

sehr schönes Appartement mit unkompliziertem Vermieter. Sauber und mit ALLEM ausgestattet. Zentral und doch absolut ruhig. Verkehrsnetz total gut, U-Bahn Station in der Nähe. Wunderbare Bio-Beiz in nächster Nähe (auch takeway) und andere Einkaufsmöglichkeiten. Ich buche wieder bei euch, liebe Berlinlofts-Leute. Ursa Maier

---

John W.

John W.

Outstanding!

The apartment is in an 1895 vintage building but has been fully remodeled recently in a clean, functional and attractive Euro style -- a great combination. The apartment is delightfully quiet, in spite of being in an active area. The kitchen is fully equipped and the owner has added lots of little touches to make your visit that much more comfortable. There are upstairs and downstairs TVs and other amenities. The owner is responsive to questions and the bed is great. The location is a short 2 blocks to a U-bahn station, so you can get anywhere efficiently. There are an array of good, diverse restaurants within a few blocks (French, Italian, Peruvian, Indian, Middle Eastern, Spanish, Thai, etc. etc.) We have already recommended this place to friends and we'd certainly hope to stay there again on a future trip to Berlin. HIGHLY recommended all around!

---

Omnia E.

Omnia E.

A beautiful loft!

I had a wonderful stay in this centrally located loft. Conveniently nestled between two U-Bahn stations, you can access all parts of the city easily. The loft was newly renovated and tastefully furnished with modern appliances and a full kitchen. Rarely does one find a place that is actually more appealing in person than in the photos. The loft is spacious and has beautiful natural sunlight, hardwood floors, outdoor space, and all modern amenities. Interacting with the hosts was a joy and all queries were promptly addressed. I will definitely be staying here again the next time I travel to the magic that is Berlin!

---

Johanna L.

Johanna L.

Perfect!

The flat is amazingly beautiful, calm and well furnished with everything you might need.

---
Show more ↓