Luxurious loft on the first floor of former horse stable with a big terrace in a quite courtyard environment
Comfortable 140 sqm loft with 4 bedrooms, 2 bathrooms in a courtyard without traffic noise.
Terrace
Parties or celebrations are not allowed.
This terrace will be moving one floor up starting December 2019, after the reconstruction of the garages which are underneath the terrace.
The terrace can then be reached via another stair.
This is a charming loft with 4 bedrooms in a 100 year old historic two-story stable building. The holiday apartment was restored in 2010. A well equipped, comfortable kitchen is integrated into the living room and invites you to cook. There are 2 nice bathrooms, a tub and a shower bath. You can park at the parking space belonging to the house and take over the city from there. The sound-protected inner courtyard or the terrace offers space to stay outside of the apartment. On the bordering neighbouring property, you will look directly at the small blacksmith building and at the 100 years old factory buildings where the famous so called Kommune 1 of the 1968 movement spend their last year.
The apartment is located in the North of Tiergarten in the lively but not too crowded neighborhood called "Stephankiez".
The next underground station (Birkenstrasse) and the next S-Bahn station (Westhafen) are about 700 meters away. Bus stops of the line 123 are about 300 meters from the apartment, which takes you in a few minutes to the main train station (Hauptbahnhof). From there the political city centre with Reichstag building and Brandenburg Gate are easy to reach.
The Berlin administration requires a registration for overnight guests.
We will request the relevant personal data in advance using a booking form.
+ More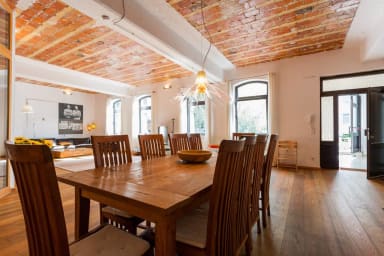 Construction Nov. Dec. 2019 new terrace will move one floor up in January 2020
Antique
Art Deco
Atypical
Baby bath
Baby crib
Babysitter recommendation
Balcony
Baroque
Books
Books Kids
Central Heating
Cleaning and disinfection
Clothes Dryer
Coffee Maker
Computer Available
Contactless check-in and check-out
Contemporary
Dishwasher
Ecological
Elevator
Empire
Energy-efficient devices
Essentials
Fire Extinguisher
First Aid Kit
Fridge
Full Equipped Kitchen
Kids' Games
Gated property
Gloves available
Hair Dryer
Hand sanitizer
Hangers
Heating
Highchair
Historical
Hi-tech
Hoover
Internet
Iron
Kettle
Kids Friendly
Laptop Friendly Workspace
Linen Towels
Long Term Rentals Available
Masks available
Microwave
Minimalist
No single-use plastic
No single-use toiletries
Organic food & beverages
Oven
Parking Included
Private Car Park
Private entrance
Professionally cleaned
Romantic
Safe
Safety Card
Satellite Or Cable
Smoke Detector
Smoking Forbidden
Social distancing
Staff wear protective equipment
Stereo System
Suitable for children (2+ years old)
Suitable for infants (under 2 years)
Terrace
Toaster
Toys
Tv
Ventilator
Victorian
Vineyard
Washing Machine
Wood
Reviews
Dan S.

United States

Dan S.

United States

A spectacular place for groups in Berlin

It was my second stay in a Berlin Lofts apartment and I'm impressed how they keep improving the units. It is very difficult to find a multi-bedroom apartment with so much space, as well as a full equipped kitchen and washing machine. Easy walk to grocery stores and transit.

---

Oliver K.

Oliver K.

Super Location

Alles top!

---

Dagmar F.

Dagmar F.

Perfekte Location

Diese Wohnung hat unsere Erwartungen übertroffen. Absolut empfehlenswert.

---

F. H.

F. H.

Geweldig!

Super aardige en behulpzame host. Het appartement was boven verwachting en echt spik en span! Er ontbreekt niks, een echte aanrader en waar voor je geld.

---

Georg H.

Georg H.

Klare Empfehlung!

Super Wohnung, sehr praktische Lage, exakt wie beschrieben, absolut ruhig und sehr gut ausgestattet. Wir waren dort 4 tage mit 6 Erwachsenen. Gerne wieder!

---

Valarie L.

Valarie L.

Berlin trip

Beautiful place and perfectly located in the city!

---

Britt &.

Britt &.

Coole Röume

Tolle Location, großer Raum mit toller Küche. Die Stühle sind nicht zum langen sitzen und Gespräche führen. Das Sofa ist veraltet und verschiebt sich beim Gebrauch. Die Musikanlage war uralt und hatte nicht einmal Radioemfang, wurde allerdings ganz schnell ersetzt durch das Team. Netflix recorder ist toll, aber wenn er nicht im Netzwerk eingebunden ist, funktioniert kein Streamingdienst. Meine Matratze war durchgelegen und die "Stütze" in der Mitte des Bettes erlaubte kein Schlaf in der Mitte, sondern nur rechts oder links. vielen Dank

---

Tina J.

Germany

Tina J.

Germany

Super ruhiges Appartement mitten in der Stadt

Waren mit 5 Erwachsenen und 2 Kindern im Januar dort. Sehr freundliche Begrüßung vor Ort. Sehr ruhige Lage im Hinterhof. Im Sommer ist die Dachterrasse sicher ein tolles Extra. Ein bisschen gewöhnungsbedürftig ist das vom Essbereich einsehbare Badezimmer. Ein Vorhang als Sichtschutz ist vorhanden. Toll wäre ein Sparschäler. Ansonsten ist die Wohnung sehr gut ausgestattet und gemütlich. Sehr empfehlenswert!

---

Sylvia D.

Sylvia D.

un séjour entre amis à Berlin

Nous avons été très agréablement surpris de la qualité de cet hebergement : propreté, très spacieux et tous les ustensiles de cuisine étaient propres et de qualité. L'emplacement est excellent : à peine 20 minutes du centre et très calme. Je recommande absolument. Mme Sylvia DORET

---

Michelle D.

Michelle D.

Nice big apartment

Lots of space, good public transport and quiet location. We enjoyed our stay and the hosts were very helpful with our questions and instructions. Thank you!

---

CHRISTOPHER B.

United Kingdom

CHRISTOPHER B.

United Kingdom

Fantastic place to stay in berlin

This for me is the best place to stay in Berlin 10 minute walk to Brandenberg gate but the area itself has a lot to offer in the way if bars and places to eat. I will not be staying anywhere else when i return fabulous apartment spotlessly clean and quiet.

---

Amanda H.

United Kingdom

Amanda H.

United Kingdom

Outstanding

We had a fantastic time in Berlin. This was our second stay in this apartment. We loved it the first time and loved it just as much this time too. The apartment was spacious, with everything we needed. And it was in a perfect location with all the sites a few stops away on the u/s bahn. We couldn't have wished for better and will definitely choose this apartment again when we make a return visit.

---

Willemijn R.

Willemijn R.

Weekend

This is the best place to stay in Berlin. We were with 7 persons, the appartment is complete. There is nothing we did miss. This was our 4 stay with Berlinlofts, it is always perfect!

---

Emma L.

Denmark

Emma L.

Denmark

Great apartment

Great apartment, particularly with kids. Quiet area, big flat and great rooftop terrace

---

Markus S.

Markus S.

Visit in Berlin

Excellent place. Well kept and tidy. We had 7 guests and all were pleased with the place. Instructions and communciation was easy.

---

Michael L.

Denmark

Michael L.

Denmark

Spacious and quiet appartment with great host

We were very happy to stay in the appartment clearly a project that our host is rightlynproud off.

---

Werner M.

Werner M.

Sehr schönes Loft

Ein wirklich sehr schönes Loft mit einem riesigen Wohnbereich und vier unabhängigen Schlafzimmern. Ruhig im Hinterhof, gut eingerichtet zum großen Kochen.

---

Evelyn S.

Evelyn S.

Familienweihnacht

Wir hatten wunderbare Tage dort…mit vier Generationen und für alle war es toll….super Ausstattung…viel Platz zum Zusammensein oder Rückzug

---

David S.

Germany

David S.

Germany

Hideaway mit Startup Team

Wer sich mit ein paar Mitarbeitern konzentriert zurück ziehen möchte, ist hier gut aufgehoben. Die Ausstattung ist funktional und in gutem Zustand. Die Dachterrasse ist genial und ein Parkplatz direkt vor der Tür.

---

JULIEN R.

France

JULIEN R.

France

Excellent

Very nice flat, exactly as described on the web site. Good location, for the marathon at only a few bus stops from the start and finish line

---

Arnd B.

Arnd B.

Super Loft

We'll be back 😉

---

Christine Z.

Christine Z.

Gelungener Familienurlaub

Mit drei Familien und Kindern eine Ferienwohnung zu finden, die auch noch bezahlbar ist, war nicht leicht. Doch im Horse Stable 1. Floor waren wir super aufgehoben! Die Wohnung hat eine tolle Lage: mitten in Berlin und dennoch ruhig gelegen. Die Einrichtung war ganz genauso wie auf den Bildern. Die Küche ist top eingerichtet. Wir haben kein einziges Teil vermisst und zu viel selbst mitgebracht. Abends konnten sich alle zusammen setzen, weil ausreichend Sitzgelegenheiten vorhanden waren. Nur die schöne neue Dachterrasse konnten wir viel zu wenig nutzen, weil das Wetter nicht mitgespielt hat. Eine ganz klare Empfehlung!

---

Joachim M.

Germany

Joachim M.

Germany

Sehr groß und gut eingerichtet

Das Wohnzimmer, einschließlich Küche und Essbereich, ist riesig. Die Küche ist sehr gut eingerichtet. Die Geräte sind von guter Qualität. Die beiden Badezimmer sind gut und funktionell eingerichtet. Es könnten allerdings ein paar Handtuchhaken mehr sein. Die Schlafzimmer sind auch gut eingerichtet. Der Innenhof ist klein, aber sehr nett gestaltet.

---

Stefan F.

Stefan F.

Tolle Lage, viel Platz

Fünf Minuten zur S Bahn Zwei Minuten zum Bus Zwei Minuten zum Edeka Und ein Riessen Loft mit viel Platz Die Küche ist ein Traum

---

Norbert H.

Norbert H.

Toll ausgestattete Wohnung

Wir (Familie fünfköpfig) waren über Pfingsten 2020 in der Wohnung im ersten Stock. Die Wohnung ist wirklich klasse: Viel Raum, cool eingerichtet, mit allem ausgestattet, was man sich nur wünschen kann (Geschirr für bis zu 15 Personen, viele Töpfe, sogar 2 (!) Stößel für Cocktails), zudem sehr ruhig im Hinterhaus gelegen. Morgens hört man die Vögel zwitschern. Außerdem ist die Wohnung auch gut mit U- oder S-Bahn zu erreichen. Prima auch der eigene Parkplatz im Hof. Die Vermieter waren sehr freundlich und hilfsbereit.

---

Alexandra W.

Alexandra W.

immer wieder cool

Wir sind mit einer festen Gruppe 1- bis 2-mal jährlich in einem der Lofts und immer wieder begeistert vom Design, der Gemütlichkeit und der Ausstattung der Lofts! Aber auch der Service drum herum stimmt: gute Beschreibung der Örtlichkeiten, unkomplizierte Schlüsselübergabe u.ä.m.; und es ist notfalls immer jemand zu erreichen bzw. es kümmert sich jemand praktisch sofort. Super angenehm, wie alles läuft! Wir werden weiter buchen - und empfehlen!

---

Bert D.

Bert D.

What a good place.

It is a very good place for a visit to Berlin. We have been with 9 persons. Great living, kitchen en bedrooms.

---

Annegret K.

Annegret K.

Pferdestall 1.Og

Hallo, Das Loft hat auf uns einen schönen Eindruck gemacht. Allerdings funktioniert die Spülmaschine nicht richtig, sie macht nicht ordentlich sauber, sodass wir einige schmutzige Teller und fast nur dreckige Gläser vorgefunden haben. Das war sehr schade, lässt sich aber sicher ihrerseits beheben. Die Betten haben Sie mit 1,60x2,00 m angegeben, wir waren uns aber alle sicher, dass sie maximal 1,40m breit waren. Viele Grüße Annegret Krüger

---

Helle V.

Helle V.

Moderne and comfort appartment

Everything was so fine and ok. Nice appartement for 8 persons.

---

Holger V.

Holger V.

Tolle Wohnung in guter, ruhiger Lage

Wir haben mit acht Personen in einer sauberen, top-ausgestatteten und sehr großen Wohnung übernachtet. Wir sind bestens zufrieden!

---

Andy B.

Andy B.

Berlin loft Apartments

Amazing apartment and amenities. Very convenient and comfortable. Clean and spacious. Highly recommend.

---

Ian C.

Ian C.

Really nice!

We loved the loft, really spacious and easy check-in/check-out. The only thing we would change would be to add black-out blinds in the bedrooms, the orange blind was really no good for keeping the sunlight out. But that's all, we will probably come back next year. Many thanks!

---

Amy P.

Amy P.

Great stay!

We loved this rental. Great location. Beautiful place. Comfortable beds and linens. Host was wonderful. Highly recommend.

---

Robert R.

Robert R.

Very happy with the service, the apartment

The owner was very accommodating and friendly to us and appreciate the extra lengths he went to in making our stay comfortable.

---

Ilse M.

Ilse M.

Familienausflug

Ein tolles Loft. Sehr zu empfehlen. Wir waren 8 Erwachsene und 3 Kinder. Im größeren Schlafzimmer konnten wir 2 zustellbetten für 2 Kinder unterbringen. Terasse war super. Jederzeit wieder.

---

Sally D.

Sally D.

Sally

Beautiful and spacious apartment in a great location. Super well equipped, very comfortable, excellent hosts, and easy transport links (with many places within walking distance) all made this a wonderful stay in Berlin!

---
Show more ↓