Luxurious loft on the second floor of former horse stable with terrace in a quite courtyard environment
This is a charming 140 sqm loft with 3 bedrooms in a 100 year old historic two-story horse stable building. The holiday apartment was restored in 2010 . The apartment is on the top floor and has a terrace. A well equipped, comfortable kitchen is integrated into the living room and invites you to cook. There are 2 nice bathrooms, a tub and a shower bath. You can park at the parking space belonging to the house and take over the city from there. The sound-protected inner courtyard or the terrace offers space to stay outside of the apartment. On the bordering neighbouring property, you will look directly at the small blacksmith building and at the 100 years old factory buildings where the famous so called Kommune 1 of the 1968 movement spend their last year.
Parties or celebrations are not allowed.
The apartment is located in the North of Tiergarten in the lively but not too crowded neighborhood called "Stephankiez".
The next underground station (Birkenstrasse) and the next S-Bahn station (Westhafen) are about 700 meters away. Bus stops of the line 123 are about 300 meters from the apartment, which takes you in a few minutes to the main train station (Hauptbahnhof). From there the political city centre with Reichstag building and Brandenburg Gate are easy to reach.
The Berlin administration requires a registration for overnight guests.
We will request the relevant personal data in advance using a booking form.
+ More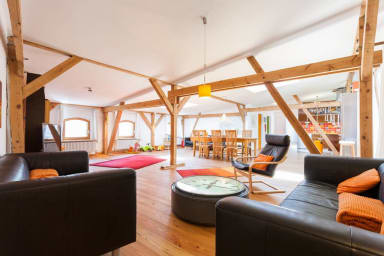 Antique
Art Deco
Atypical
Baby bath
Baby crib
Babysitter recommendation
Balcony
Baroque
Books
Books Kids
Central Heating
Cleaning and disinfection
Clothes Dryer
Coffee Maker
Computer Available
Contactless check-in and check-out
Contemporary
Dishwasher
Ecological
Elevator
Empire
Energy-efficient devices
Essentials
Fire Extinguisher
First Aid Kit
Fridge
Full Equipped Kitchen
Kids' Games
Gated property
Gloves available
Hair Dryer
Hand sanitizer
Hangers
Heating
Highchair
Historical
Hi-tech
Hoover
Hot water
Internet
Iron
Kettle
Kids Friendly
Laptop Friendly Workspace
Linen Towels
Long Term Rentals Available
Masks available
Microwave
Minimalist
No single-use plastic
No single-use toiletries
Organic food & beverages
Oven
Parking Included
Private Car Park
Private entrance
Professionally cleaned
Romantic
Safety Card
Satellite Or Cable
Smoke Detector
Smoking Forbidden
Social distancing
Staff wear protective equipment
Suitable for children (2+ years old)
Suitable for infants (under 2 years)
Terrace
Toaster
Toys
Tv
Ventilator
Victorian
Vineyard
Washing Machine
Wood
Reviews
Ruth B.

Germany

Ruth B.

Germany

Gerne wieder

Zum zweiten Mal waren wir in einer Wohnung von Berlinlofts und es hat uns auch dieses Mal sehr gut gefallen

---

Elaine R.

Elaine R.

An amazing apartment

This is a lovely place, quiet at night, very well equipped, comfortable and plenty of space for 6 adults. It really made our stay in Berlin great.

---

Kamil T.

Germany

Kamil T.

Germany

Schöne Tage in Berlin

War perfekt für unsere 4 Nächte in Berlin.

---

Noel D.

Noel D.

Lovely Apartment

Strongly recommend.

---

Henri G.

Germany

Henri G.

Germany

5-day stay

we rent here frequently, excellent hosting. The hayloft apt. could also fit our local friends for breakfast, etc. very spacious common area.

---

Yolanda C.

Yolanda C.

Excelente y muy recomendable apartamento

Hemos estado alojados mi familia y yo, éramos unas seis personas en este apartamento. Lo recomiendo para cualquier persona que quiera pasar unos días en Berlín, por lo agradable, limpio y amplio que es. Tiene además una terraza que da acceso a un patio interior muy agradable tanto por el día como por la noche. El servicio es excelente te atiende con una gran rapidez y están muy atentos de que no te falte de nada. Lo único que si vais en época de verano, nosotros en Junio hemos pasado bastante calor, aunque ellos te facilitan ventiladores para cada habitación. El único inconveniente que tiene es que estas a una hora del centro de Berlín, pero a unos 10 min tienes un acceso al metro, pero tienes que hacer unos cuantos transbordos para llegar al centro.

---

Brad M.

United States

Brad M.

United States

Fantastic property with great team

I have stayed at three different units at this property and they were all great. The style and decoration of the units is very unique and good quality. The staff arevvery responsive. The value is exceptional.

---

Howard B.

Howard B.

Christmas in Berlin

Comfortable spacious apartment which is well appointed in quiet residential block. Good access to public transport and local facilities. The 5 of us thoroughly enjoyed our stay.

---

Martin R.

Martin R.

KurzTrippBerlin

Super! kannste machen wa!

---

Henk W.

Henk W.

Great stay

We had a great stay in this comfortable b&b. We recomend it for a nice weekend in Berlin.

---

Micheline D.

Belgium

Micheline D.

Belgium

een aanrader

Karaktervol verblijf met alle comfort

---

Thomas G.

Thomas G.

An oasis in the middle of Berlin

Great condos in the MOABIT area being an excellent base for expeditions into Berlin once the public transportation is decoded. Be aware that you are inside the Berlin environmental zone and need permits for your car. The Hayloft we rented was really great and for 8 persons but only have a parking spot for one car. You can rent a spare spot for €7/night but on chance. Overall a great experience only to be recommended - will return myself for sure!

---

Nicola B.

United Kingdom

Nicola B.

United Kingdom

Great apartment

Easy parking in the courtyard, roof top terrace, spacious, well stocked kitchen. We really enjoyed our stay. It was easy to get into the centre of Berlin by buses, trams or underground. The neighbourhood has some good restaurants. We ate at Meat and Fish but the Turkish restaurant also looked great. There is a large supermarket only 10 minutes walk away so we ate in too. I'd recommend staying at the Hayloft.

---

Deborah M.

United States

Deborah M.

United States

Amazing Apartment

This apartment was top notch with everything we hoped for. The kitchen was fully stocked and the outside deck was a great place to enjoy the warm evenings.

---

Tim T.

United Kingdom

Tim T.

United Kingdom

An oasis of calm in the bustle of this beautiful city

I cannot praise enough the team at The Stable and the lovely apartment itself: from the prompt responses to questions beforehand, the detailed arrival information and personal reception to the space and tranquility of the accommodation. Hidden away from the busy street (well served by public transport) entering the quiet of the courtyard you feel the history of the buildings and the calm they imbue. Up the stairs to a lovely space, well equipped in all areas but with personality. We would be happy to go back.

---

Trude S.

Norway

Trude S.

Norway

Excellent!

Very nice stay in Berlin. Perfect apartement for 6 ladies 👏

---

Neil K.

Germany

Neil K.

Germany

Sehr viel Platz und gut durchdacht

Das Stable Hayloft Apartment hat alles, was man von einer Ferienwohnung erwartet und mehr. Vielen Dank es hat uns sehr gefallen.

---

Sarah R.

United Kingdom

Sarah R.

United Kingdom

Spacious, quiet, well-equipped and comfortable

A great stay in a beautiful flat.

---

Aylton V.

Aylton V.

Recommend

Overall the place is nice, spacious, smooth check in and check out. Apartment equipped. Clear instructions and nice location. I cannot add much. I could stay there again.

---

Silvia M.

Germany

Silvia M.

Germany

Tolle Wohnung

Die Wohnung ist sehr gut ausgestattet. Alles da, was man so braucht. Sehr nettes Ambiente, gute Lage. Wir hatten einen super Aufenthalt hier.

---

Heike P.

Germany

Heike P.

Germany

Wunderschönes Quartier

Unsere Mitarbeiter haben sich hier sehr wohl gefühlt.

---

Elisabeth M.

Netherlands

Elisabeth M.

Netherlands

Spacious, comfortable, tastefully designed

Exactly as shown in the pictures. Parking space in the court yard included. Bicycle rental on the premises. BerlinLofts' staff is often around. Hayloft is the upper apartment, under the roof, which makes it hard to cool on 30*C summer days, despite of the available fans. The terrace is nice and private. Bus to Hauptbahnhof and other public transport junctions is very close, but by times overly crowded. We didn't want to take it in corona times. We would go there again.

---

Franz H.

Germany

Franz H.

Germany

..ich fühl mich gut, ich steh auf Berlin...

Eine wunderschöne Unterkunft. Sehr zu empfehlen!!!

---

J.M.C. B.

Netherlands

J.M.C. B.

Netherlands

Book it!

It a wonderful, quite and spacious apartment, close to the busstop and supermarket. Perfect place to go with friends or family.

---

Jane G.

Jane G.

Great place to stay

This is a wonderful accomodation with great facilities and easy transport links.A couple of bonus points for the local supermarket and 3rd sofa!

---

Kathryn K.

Kathryn K.

Fantastic Loft Apartment in Berlin

Our family of four had an absolutely wonderful stay at the Stable Hayloft Apartment in Berlin. The owners were friendly and accommodating, as well as easy to communicate with. The apartment was spacious, comfortable, with a well-stocked kitchen and a beautiful deck. We loved every minute of our time there and would whole-heartedly recommend to anyone visiting Berlin with family.

---

Miranda v.

Miranda v.

Very complete and cosy appartment

We had a great time at the appartment. Very complete (coffee, tea, sugar, herbs, towels, washingmachine). We were very surprised! We recommand this to you!

---

Monica S.

Monica S.

Monica

Lovely apartment, nice neighbourhood. An absolutely gem!

---
Show more ↓