The spacious Felt Factory Loft is located on the ground floor of a historic factory building. The residence of the "Kommune 1" was here in the 68's
This is a newly reconstructed loft apartment in the ground floor of a historical company building. You have access to a private terrace garden area of roughly 80 sqm. It has 4 bedrooms and a huge open living space with integrated kitchen area. The building is situated in a quite green courtyard. The apartment is equipped with a free high-speed internet network, satellite TV, Stereo system and many other useful electrical appliances. In the late 60's this building got a lot of publicity because the people of the so called "Kommune 1" who revolted against the establishment stayed in this building. The "Kommune 1" stands for the liberation of sex much like the Hippy movement in the United States. Some of the famous tenants are Fritz Teufel, Dieter Kunzelmann, Rainer Langhans and Ulrich Enzensberger.
Parties or celebrations are not allowed.
The building is situated in the backyard in residential apartment house residential area.
The apartemt is located in the North of Tiergarten in the lively but not too crowded neighborhood called "Stephankiez".
The next underground station (Birkenstrasse) and the next S-Bahn station (city train) are about 700 meters away. Bus stops of the line 123 are about 300 meters from the apartment, which takes you in a few minutes to the main train station (Hauptbahnhof). From there the political city centre with Reichstag building and Brandenburg Gate are easy to reach.
The Berlin administration requires a registration for overnight guests.
We will request the relevant personal data in advance using a booking form.
+ More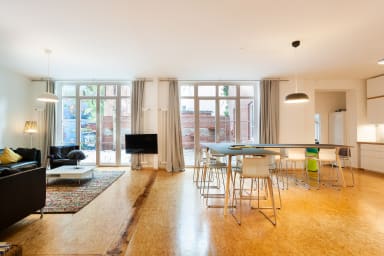 Antique
Art Deco
Atypical
Baby bath
Baby crib
Babysitter recommendation
Balcony
Baroque
Books
Books Kids
Central Heating
Cleaning and disinfection
Clothes Dryer
Coffee Maker
Computer Available
Contactless check-in and check-out
Contemporary
Dishwasher
Ecological
Elevator
Empire
Energy-efficient devices
Essentials
Fire Extinguisher
First Aid Kit
Freezer
Fridge
Full Equipped Kitchen
Kids' Games
Garden
Gated property
Gloves available
Hair Dryer
Hand sanitizer
Hangers
Heating
Highchair
Historical
Hi-tech
Internet
Iron
Kettle
Kids Friendly
Laptop Friendly Workspace
Linen Towels
Long Term Rentals Available
Masks available
Microwave
Minimalist
No single-use plastic
No single-use toiletries
Organic food & beverages
Oven
Parking Included
Private entrance
Professionally cleaned
Romantic
Safe
Safety Card
Smoke Detector
Smoking Forbidden
Social distancing
Staff wear protective equipment
Stereo System
Suitable for children (2+ years old)
Suitable for infants (under 2 years)
Terrace
Toaster
Toys
Tv
Ventilator
Victorian
Vineyard
Washing Machine
Wood
Reviews
Julia L.

Julia L.

Spacious flat with responsive owners.

This is a great flat for a family visit Berlin. The kitchen is well stocked for cooking big meals, the flat is very light and spacious. The owners look after their properties and are on site if there is a problem.

---

JO D.

Belgium

JO D.

Belgium

---

Christina J.

Germany

Christina J.

Germany

180 qm Filzloft

Tolle Unterkunft im ruhigen Hinterhaus. Perfekte Betreuung bei Fragen und Hilfestellungen. Gerne jederzeit wieder!

---

Calin D.

Romania

Calin D.

Romania

Amazing apartment

Really spacious, with appropriate furniture, beds, well equipped kitchen, heating, big screen TV, fast Internet with good WiFi coverage.

---

Pierre S.

Pierre S.

Super adresse

Très beau loft, très bien équipé, particulièrement agréable. Possibilité de laisser les valises en arrivant mais aussi le jour du départ jusqu'au dernier moment, ce qui est précieux.

---

Renate D.

Renate D.

60iger Geburtstag

Das Loft war das perfekte Ambiente für meine 60er Geburtstagsfeier am 14.2. mit 17 Leuten zu einem gemütliches Essen. Alle waren begeistert😀 Danke und Grüße von Renate

---

Christian H.

Christian H.

Amazing

Amazing apartment with plenty of room fir both kids and adults. We travelled 4 adults and 5 kids and there was still plenty if room to enjoy the stay. We definitely recommend this place!!

---

Rob v.

Netherlands

Rob v.

Netherlands

Beautiful apartment

All was perfect!

---

Dayron L.

Netherlands

Dayron L.

Netherlands

Stay in Berlin

We had a great stay with our group of friends. This was my third stay at Berlin Lofts.

---

Jane A.

Qatar

Jane A.

Qatar

Spacious and comfortable property for a large group

We loved this apartment as it was spacious and well set up for small children.

---

Ralph C.

Ralph C.

Vielen Dank

Sehr schön, wie immer. Vielen Dank!

---

Paul-Alain B.

Paul-Alain B.

The appartement is perfect, comfy, well furnished.

The appartement is perfect, comfy, well furnished. For a group of 10 is perfect to be able to access the apartment with codes. Thank you !

---

Christoph L.

Christoph L.

sehr gerne wieder

Wir haben uns sehr wohl gefühlt und den exzellenten Service der Mitarbeitenden von Berlinlofts genossen. Es hat uns an nichts gefehlt!

---

Ana I.

Ana I.

Felt Factory Loft

El apartamento es como aparece en las fotos, muy amplio y con mucha luz. Es ideal para grupos grandes. No hay problema de ir en invierno porque tiene una buena calefacción. La cocina está muy bien equipada, tiene de todo.

---

Christoph L.

Christoph L.

Wohlfühlfaktor

Wir waren in der Feltfactiry und haben uns ausgesprochen wohl gefühlt. Es ist eine Oase in Berlin und die ganze Einrichtung von der Küche bis zu den Matratzen war qualitativ hochwertig und geschmackvoll. Immer gerne wieder

---

Sandra L.

Sandra L.

Berlin loft

The loft was execlent. A beautiful large living space in a great neighbourhood. We had a friendly reception! Worth repeating! Highly recommended!

---

Georg V.

Georg V.

Berlin macht Spaß in diesem Loft!

Wir waren als Familie mit vier Kindern knapp eine Woche in der ehemaligen Filzfabrik. Das tolle Loft mit großer Terrasse ist in einen größeren Hinterhof eingebunden, der Zuwege von zwei Straßen hat (Haustüren jeweils passwortgeschützt), dadurch keinerlei Verkehrslärm. Wir konnten unser Auto auch im Hinterhof parken. Der Moabit-Kiez ist lebendig, die Bar "Zaffke" in der Rathenower Str. gefiel mir dabei außerordentlich. Die Anbindung nach Mitte über die U9 nur mit Umsteigen, daneben gibt es aber auch Buslinien. Die Ausstattung der Küche ist echt klasse, der große Tisch im Wohnbereich lädt zum ausgedehnten Frühstücken. Wegen der großen Fenster ist das Loft wirklich "sonngeflutet".... Insgesamt eine tolle Lokation, der Vermieter war auf den angegebenen Telefonnummern sofort erreichbar bzw. kam zeitnah per sms zurück. Vielen Dank!

---

Sabine R.

Sabine R.

3 Tage im Juli 2021

Herrliche Oase in der Hauptstadt! Tolle Ausstattung und herzliches Willkommen! Nächstes Jahr gerne wieder! Ganz liebe Grüße vom Bodensee

---

Christoph L.

Christoph L.

Berlinloft at its Best !

We stayed several days in the Felt Factory and didn't miss anything! The service of the people was excellent, friendly and fast. So we will be back for sure!

---

Joachim Z.

Joachim Z.

Felt Factory Loft

There is no better place in Berlin to stay with a large group: spacious living room, warm atmosphere, comfortable bed rooms, fully equipped kitchen, quiet, hosts are always available and very helpful ... We will come back!

---

Henri G.

Germany

Henri G.

Germany

Loft in der Filzfabrik

Toll gelegen im Stephanskiez, der noch nicht gentrifiziert ist. Wirklich komplett und hochwertig ausgestattet zum fairen Preis. Durch das gute Wetter konnten wir den Terrassenbereich schön integrieren.

---

Frank W.

Frank W.

Frank Wilbert

Schon mehr als 100 Nächte mit meinen Jungs da verbracht. :-))

---

Florian S.

Florian S.

Berlin Filzfabrik

In allen Belangen top! Wir haben schon den nächsten Aufenthalt gebucht!

---

Christoph L.

Christoph L.

Again a real great experience

We are coming to Berlinloft's since many years and liked the way this place is run by Stefan and his Team. Very supportive with brilliant ideas in the way they furnish the apartments and give advise where to go. Felt Factory is newly refurbished and has a modern, light ambience, we missed nothing, even a smart TV was at our duty. So we will come again!

---

Brigitte G.

Brigitte G.

wunderschöne Wohnung, nette und unkomplizierte Abwicklung

Sehr schöner Aufenthalt in wunderbarer Umgebung.

---

Dorte J.

Denmark

Dorte J.

Denmark

Fantastic apartment in Mitte

We had a fantastic holiday in Berlin and we would defenitely recommend the apartment. It is well located not far from U bahn and equipped with everything you need.

---

Danny A.

Germany

Danny A.

Germany

Es ist wie Zuhause!

Ein tolles Loft - bereits zum 2. Mal gebucht. Es ist wie Zuhause: Wohlfühlen, Wärme, Geborgenheit! Großartig! Wir kommen wieder!

---

Florian C.

Florian C.

Amazing place

It was above our exceptation, amazing loft !

---

Martina A.

Martina A.

Very nice flat and hospitality

Nice and big space, clean, bathrooms are good and kitchen has everything that is needed. Relax and welcoming team! Well done!

---

Michel R.

Michel R.

A great stay in Berlin

A recommander pour tout ceux qui souhaitent visiter Berlin en famille

---

Marina F.

Marina F.

Mrs Marina Filipovic

Everything was perfect for me and my group of 7 ladies. The only remark is that internet can be better. All staff was really nice and helpful. We will come again for sure!

---

Clemens G.

Clemens G.

Perfect Stay

I had booked the loft for four musicians singing a concert and making a recording. The airy atmosphere of the apartment with the possibility for everybody to retire, though, was a perfect surrounding to make a successfull week. Moreover, the kitchen was quite something so that they could cook a wonderful meal every evening instead of spending a lot of money eating out. The atmosphere of the place contributed a lot to an harmonious being together for work and fun. A magic, unique place and very friendly staff!

---

Sébastien V.

Sébastien V.

Perfect stay!

We had a wonderful familly weekend in this spacious Loft! It's very well located in a quite neighborhood, with a lovely outside area to enjoy the sun. The kitchen has anything you can think of to cook for large group. Our host was really helpful and communication was easy. Would definitely stay here again!

---

Tine S.

Tine S.

Stay a weekend in Berlin.

It is a wonderfull Apartment, specially if you a a large Group of people. There are Space for being alone and Space for being a large Group together.

---

Claudio C.

Claudio C.

Nice place

the apartment is very nice, super clean and very big. Recommend

---

Agata C.

Agata C.

Excellent apartment, fantastic location

Amazing place to stay in Berlin!

---
Show more ↓