Comfortable 220 sqm (2444 sqft) loft apartment with 4 bedrooms and 2 bathrooms in a factory building with an eventful history
This is a reconstructed 220 sqm (2444 sqft) loft apartment in the first floor of a historical company building. It has 4 bedrooms and a 120 sqm (1333 sqft) open living space with fireplace an integrated kitchen area. The building is situated in a quite green courtyard. The apartment is equipped with a free high-speed internet network, satellite TV, DVD, Stereo system and many other useful electrical appliances. In the late 60's this building got a lot of publicity because the people of the so called "Kommune 1" who revolted against the establishment stayed in this building. The "Kommune 1" stands for the liberation of sex much like the Hippy movement in the United States. Some of the famous tenants are Fritz Teufel, Dieter Kunzelmann, Rainer Langhans and Ulrich Enzensberger.
Parties or celebrations are not allowed.
The apartemt is located in the North of Tiergarten in the lively but not too crowded neighborhood called "Stephankiez".
The next underground station (Birkenstrasse) and the next S-Bahn station (city train) are about 700 meters away. Bus stops of the line 123 are about 300 meters from the apartment, which takes you in a few minutes to the main train station (Hauptbahnhof). From there the political city centre with Reichstag building and Brandenburg Gate are easy to reach.
The Berlin administration requires a registration for overnight guests.
We will request the relevant personal data in advance using a booking form.
+ More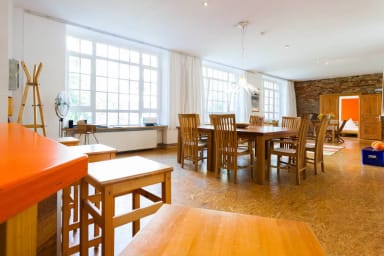 Antique
Art Deco
Atypical
Baby bath
Baby crib
Babysitter recommendation
Balcony
Baroque
Books
Books Kids
Central Heating
Cleaning and disinfection
Clothes Dryer
Coffee Maker
Computer Available
Contactless check-in and check-out
Contemporary
Dishwasher
Ecological
Elevator
Empire
Energy-efficient devices
Essentials
Fire Extinguisher
Fireplace
First Aid Kit
Fridge
Full Equipped Kitchen
Kids' Games
Gated property
Gloves available
Hair Dryer
Hand sanitizer
Hangers
Heating
Highchair
Historical
Hi-tech
Hot water
Internet
Iron
Kettle
Kids Friendly
Laptop Friendly Workspace
Linen Towels
Long Term Rentals Available
Masks available
Microwave
Minimalist
No single-use plastic
No single-use toiletries
Organic food & beverages
Oven
Parking Included
Private entrance
Professionally cleaned
Romantic
Safe
Safety Card
Smoke Detector
Smoking Forbidden
Social distancing
Staff wear protective equipment
Suitable for children (2+ years old)
Suitable for infants (under 2 years)
Toaster
Toys
Tv
Ventilator
Victorian
Vineyard
Washing Machine
Wood
Work Desk
Reviews
David E.

David E.

Nice place to stay in Berlin

Great place. Spacious as described, with four good-sized bedrooms around a very large common area surrounded by large windows. Two sizable bathrooms, one quite large, with great showers. Well-stocked and easy to cook-in kitchen. Lidl 3 blocks away for groceries. A little less straightforward to get to public transportation and walking distance restaurants a bit scarce. Very nice and will book again without hesitation when back in Berlin.

---

John L.

John L.

Great Apartment

Very good spacious, clean, close to everything

---

Susie S.

Susie S.

Wonderful apartment in Berlin

We really enjoyed our stay in the spacy loft apartment. There was lots of room, it was very comfortable and in an excellent location for doing things in Berlin. I would highly recommend for anyone looking for a place to stay for a large group (up to 8 adults).

---

Jason C.

Jason C.

Berlin Lofts

This location is a great one, enjoy.

---

Frank L.

Germany

Frank L.

Germany

---

Siggi S.

United Kingdom

Siggi S.

United Kingdom

Incredible

Wow! Having stayed in many serviced apartments and vacation rentals I can honestly say that this was one of my favourites! The apartment was extremely spacious, well kitted out, quiet, super clean, and the outside areas very well kept and welcoming. The team looking after us was prompt, friendly and the owner very welcoming and great to talk to. We'll be back! P.S. better than the pictures!! :-)

---

Birgit R.

Switzerland

Birgit R.

Switzerland

Traumwohnung

Wirklich phantastische Wohnung mit genialer Ausrüstung bis zum Kinderspielzeug. An alles gedacht, extrem gross und hell, und trotzdem sensationell ruhig. Sehr zu empfehlen!

---

Daniel H.

Germany

Daniel H.

Germany

Good Location. High quality

Der perfekte Ort, um als große Familie die Stadt zu erkunden. Die Wohnung ist sehr geräumig, entspricht der Beschreibung und ist top sauber. Die Betten sind bequem und die Küche hat alles um sich wohl zu fühlen. Wir hatten ein kleines Problem mit der Wohnung. Dieses wurde nach Anruf innerhalb weniger Minuten freundlich gelöst. Alles super. Wir kommen wieder. Bitte weiter so!!!

---

Jill G.

Jill G.

Excellent loft for our family trip to Berlin

We loved our stay at this loft!

---

Sharon W.

United Kingdom

Sharon W.

United Kingdom

Loft

Large spacious industrial loft apartment. Great for our family group

---

Philip S.

Philip S.

Great apartment and stay

A great and spacious apartment for large groups. Public transport was nearby and easy to get in to the Berlin central areas. Our family had a really nice stay here!

---

Anastasia A.

Anastasia A.

Amazing

Wonderful place, just perfect for our needs.

---

Grant C.

Grant C.

Son's 21st Birthday in Berlin.

It is such a lovely loft to rent, and we had a great time staying there.

---

Raymond V.

Netherlands

Raymond V.

Netherlands

Excellent and spacious apartment

I enjoyed the stay. The apartment is spacious and quiet because not directly to the street but next to an inner court. Intake was smooth and efficient. Not too far from metro and large supermarket. Kitchen had sufficient facilities to cook for a large group.

---

Angel C.

Angel C.

Nice apartment

Really a nice apartment with a perfecly communicated location. We felt at home thanks to the place and to the staff

---

Daniel H.

Germany

Daniel H.

Germany

Tolle Lage, Tolle Wohnung… ein Erlebnis

Diese Wohnung war mehr als ideal für uns mit 4 Erwachsenen und 6 Kindern. Die Teenies können sich zurückziehen, die kleineren frei spielen während einer in Ruhe kocht, einer liest in der großen Ecke und einer schläft im letzten Raum. Das Haus ist voller Geschichte (Kommune 1, Jimi Hendrix) und das spürt man die ganz Zeit. Die Anbindung an den Hauptbahnhof funktioniert tadellos, die U-Bahn zu Fuß oder mit dem Bus schnell erreichbar. Wir haben schon viele Wohnungen gesehen, aber so sauber haben wir es noch nie vorgefunden. Wir kommen bald wieder.

---

Rainer N.

Germany

Rainer N.

Germany

Rating

Super apartment. Nothing was missing. We come again

---

Trudy P.

Netherlands

Trudy P.

Netherlands

Good place, lots of space!

We had a very nice stay. The neighbourhood is really fine and the appartment was everything that we could wish for! We really enjoyed our stay. Maybe one point of improvement: de bathroomfloor was -after taking a shower- over-all wet because of a lack of a coverstrip in the shower.

---

Francesca F.

Francesca F.

Great place

Great place for big groups

---

Bethany B.

Bethany B.

As good as it looks on the pictures

Great apartment and location would definitely recommend to another large group or family getting together. It was ideal!

---

Winfried K.

Germany

Winfried K.

Germany

Großartig

Sehr gerne wieder.

---

Andrew S.

Andrew S.

A spacious appartment great for families and groups.

A great place to stay! Very clean, great hosts and more space for a group than you could want for. Easy to live together as a group and have our own space when required. Quiet neighbourhood meant that we could combine the sights and bussle of the centre with down time when we got back. Would definitely recommend!

---

Adrienne F.

United States

Adrienne F.

United States

Best family reunion home!

Everything was perfect at this home- location and all inside the home!

---

Mikhail F.

Mikhail F.

Very pleasant experience staying in Berlin

We liked our stay very much. Our experience was better than expected! A lot of space, warm, enough light, everything for cooking, comfortable beds! The internet was a bit weak in the far corners of the apartment, but worked ok overall. Good value for money.

---

Maite V.

Maite V.

Awesome Loft for a big group

We loved the appartment. It was fantastic, lovely decoration, fully equiped, with lots of light and pleasant views, and the location was also excellent.

---

Michiel V.

Michiel V.

Michiel 21-25 juli 2021

Bijzonder ruim, open en mooi ingericht appartement, ideaal voor onze familiegroep van 7 volwassenen. Met 4 ruime slaapkamers overal veel licht en uitzicht. Heel rustig gelegen.

---

David H.

David H.

Huge apartment

Very confortable place in a good location

---

Robert D.

Robert D.

Great Venue, excellently run

Great Venue, excellently run

---

Gillian C.

Gillian C.

Mrs Chew

What a lovely apartment and very accommodating people. Clean and a well stocked kitchen. Would definitely return. Great restaurants nearby, easy access to public transport. No complaints, a lovely stay was had by us all

---

Bettina K.

Bettina K.

Super Loft

Eine sehr schönes und geräumiges Loft. Schön ruhig in einem Hinterhof gelegen. Die Einrichtung war sehr geschmackvoll, Küche voll funktionsfähig, gut ausgestattet. Alles gut!!!!

---

Eddie F.

Eddie F.

Great trip in a massive place

Lovely space and well located. Stephan was very informative when he met us to show us the place and had some good recommendations for local restaurants. Big bedrooms and enormous living area, really enjoyed our stay in Berlin and would definitely stay again!

---

Marci N.

Marci N.

Berlin Loft for 8

We were a family group of 8 with 2 kids. The loft was amazingly spacious, well equipped kitchen, puzzle and toys for the kids, comfortable beds, beautiful natural light. When you walk in, there is an "Ahhh" moment when you walk into the huge, open space! There are several restaurants and grocery stores w/in easy walking distance. The U Bahn and S Bahn are very walkable. Its 15-20 minutes from the main train station, and about 45-60 mins stroll to Brandenburg Gate and all the other sights near The Wall, Reichstag and even into Alexanderplatz. We would stay here again in a heartbeat and I highly recommend it!

---

Christoph L.

Christoph L.

Great stay

We had, again, a very wonderful time in Berlinloft. The location is set up in a very personal way and even the apartments were equipped with everything one could wish, litte things were arranged immediately. So thank you Stephan, we will come back.

---

Frank N.

Frank N.

Super

The loft is excellent, really spacious und well equipped.

---

Guin V.

Guin V.

Huge loft apartment in Berlin

Really enjoyed our stay in this huge 4 bedroom apartment. We were 4 couples and it was great to have 4 big bedrooms and 2 big bathrooms. We travel together quite often and it's hard to find a big enough place. Very well located, well equipped, secure, quiet and with a lovely friendly host in the flat above. Would definitely recommend this apartment for a group stay or family.

---
Show more ↓